Bloomfield Hills a small, elegant city surrounded by Bloomfield Township and the city of Birmingham.
As the settings in print and on the screen for novels like Harold Robbins' THE BETSEY and Arthur Hailey's WHEELS, these suburbs have achieved national publicity.
The city is comprised almost entirely of single family residential homes found on estate-size lots off winding, country-like roads. Some are graciously secluded behind ivied walls and lush landscaping. Many are situated on lots large enough for caretaker or in-law cottages, terraced gardens and ponds, private tennis courts swimming pools and platform
Bloomfield Hills is the location of the Bloomfield Open Hunt Club which has hosted horse shows for more than 50 years. It has been the training site for the Michigan Olympic Equestrian Team. Over 500 horses from around the world compete in the Motor City Horse Show making it one of the largest on the circuit.
Downtown Bloomfield Hills appears rather unassuming with a couple of gas stations and a plain office building. But, just a few miles away is the premier shopping district in Michigan, The Somerset Collection.
Though Bloomfield Hills Public Schools' students achieve very well, it is the presence of several outstanding private schools with a tradition of academic excellence which makes education a very big issue in the community. Well known private schools in the community include Academy of the Sacred Heart, Detroit Country Day and the Roeper School for Gifted Students.
The Cranbrook Schools have a campus of lower, upper and collegiate schools with acres of both natural and maintained landscape including woods of magnificent fir trees and manicured gardens. The campus buildings and the sculptured works of Swedish artist Carl Milles draw thousands of visitors each year. There are tours available of the formal gardens and the residence of the Booth family (who were the founders of Cranbrook) and the Saarinen House named for the famous artistic family who first lived there.
Cranbrook Academy of Art Museum is a showcase for a permanent collection as well as for faculty and student art. There is also a Science Museum. A nature center and conservatory are part of the science facility.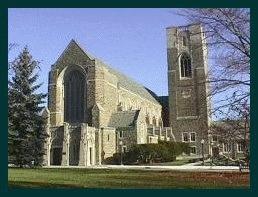 Christ Church Cranbrook, Episcopal, is part of the complex. It is visited and enjoyed for its beautiful architecture and stained glass windows. There is a carillon on the commons in front of the building. From time to time there are scheduled concerts of bell music played by visiting, nationally acclaimed carilloners. At special church seasons there are appropriate concerts given within the edifice.
Nationally known Oakland Hills Country Club has hosted PGA playoffs and was the site of the 1996 U.S. Open. If one fantastic club isn't enough there are several others: Birmingham Country Club, Bloomfield Hills Country Club, Forest Lake Country Club and Wabeek Country Club.
Bloomfield Township, too, has beautiful and expensive homes, but there are also many subdivisions with houses on large lots in the $200,000 price range. There are 17 lakes in the township - ranging from pond-size bodies of water to those which accommodate small boats and subdivision beaches.
Bloomfield Township has no designated downtown. but there are several nice shopping areas.